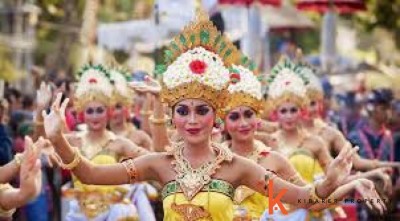 41st Bali's Arts Festival 2019
Category : Adventure | Posted On Jun 24, 2019
The streets of Bali, specially Denpasar is filled with culture and stunning performance as 15th June marked the beginning of the beautiful 41st Bali Arts Festival. The performers were a treat to watch as they dressed in their traditional clothing to represent the regencies they belong to. There are total 8 regencies with one city Denpasar parading the day on 15th June representing their signature and history.
President Joko Jokowi Widodo officially launched the parade wearing the traditional brown balinese attire and udeng. The parade was launched with President striking the traditional wooden Kulkull bell in front of the famous Bajrasandhi monument to honor the struggles of Balinese people over the period of the history. "Today I open and launch the parade of the 41st Bali Arts Festival. Matur suksma (thank you)," Jokowi said in a very short remark.
The parade was also glorified with performances of art groups and troupes from the other areas of the country and abroad. Performers from Papua, Sumenep in East Java, and China made it a perfect colorful feast showing the true colors of the diversity Indonesia has to offer.
Bali Art Festival is the longest running festival in Indonesia. It will continue to enliven Bali from 15th June till 13th July. Tens of thousands of performers belonging to Balinese culture will take part in the festival. The Werdhi Budaya Art Center is going to host the most of the event. Wayan Koster the Governor of Bali also shared his thoughts about the festival
. "The Bali Arts Festival is an important tool to preserve and develop the unique and rich Balinese culture, an astounding legacy of our ancestors," Koster said.