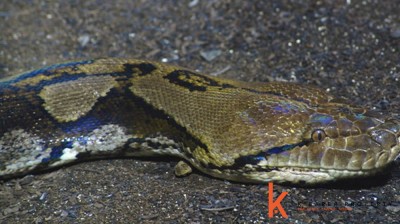 70 KG Python Terrorizes a Family in Denpasar
Category : Adventure | Posted On Apr 20, 2017
We all have found some weird things/animals in our house which are not supposed to be there but boy o boy a family in Denpasar was in for an extreme surprise. The family was in shock to see a python weighing approximately 70 Kg nestling on their roof and it was about 5 meters long. They immediately called for backup.
A local resident Nyoman Sumanata who was very active in helping capturing the snake said it took 6 people just to move it. The capture parade took two hours as the python decided to wrap itself around a strong piece of wood in the roof and wanted to give its captors a run for their money. It kept them busy by simply hugging the wood post in its hideout.
Even though pythons are not venomous but they are more dangerous than that. They can easily hug you to death and decide to consume you as their next meal. Sumanata shared the similar views by referring to a video that went viral in March 2017 where a man was swallowed by a python.
"It would be dangerous if we don't move it. Then later there could have been children who could be victims, like in Sulawesi," Sumantara said.