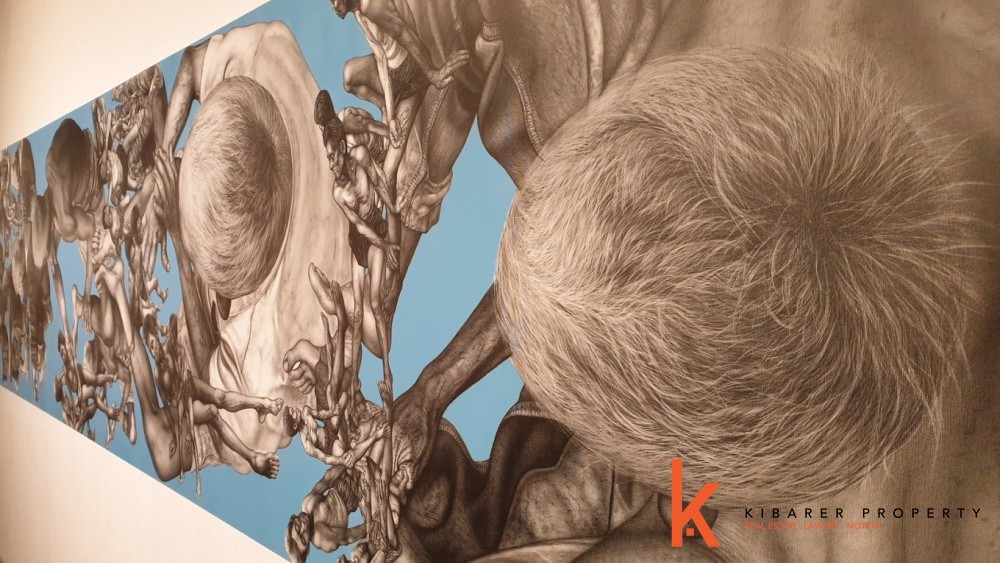 Bali MegaRupa - Is this the New Era of Sponsored Art and Infrastructure development in Bali By Government
Category : Adventure | Posted On Dec 02, 2019
Bali Megarupa,is one of the biggest exhibition which featured 103 modern and contemporary artists from Bali, ended on November 10th.
This was indeed an ambitious project organized in a three-month whirlwind period. It was set in four different locations: Bentara Budaya Bali, Museum Puri Lukisan, GianyarNeka Art Museum and Gianyar; ARMA,. This event can definitely signal a new proactive era by the Bali administration in the development of Bali's art infrastructure .

the Bali Arts Festival held in Denpasar in June and July, Bali Arts Festival held in June July in Denpasar is one of the two distinct annual arts events held by Bali Administration which focuses on preservation and development of the traditional arts. Under the leadership of Wayan Kun Adnayana, Bali Jani is a comparatively a new initiative of the administration's cultural office, Bali Governor Wayan Koster's translated vision, namely Nangun Sat Kerthi Loka Bali and it is totally dedicated to art and culture. Bali Megarupa is part of the Bali Jani Arts Festival that accommodates the existing modern and contemporary artists and art communities.
"Bali Megarupa is a vehicle for the extensive socialization, mediation and communication about the vision of advancing art in Bali. The event that will continue annually for five years with the dream of becoming a long-term yearly fixture on the Bali art calendar consolidated by regional bylaws," said Kun Adnyana. "The objectives are to make Bali a center for art, to realize the highest possible achievements for Balinese artists and artists from outside of Bali and to increase the creativity and productivity of Balinese artists producing original, high-quality visual art."
"This may be achieved by viewing the island as a large art studio emphasizing more collaborative and creative partnerships and increasing the necessary discourses among artists, observers, thinkers, researchers, journalists, art lovers and stakeholders. One of the many desired outcomes being the improved public appreciation for the latest achievements of the Balinese visual arts," he said.
ARMA in Ubud hosted the opening ceremony of Bali Megarupa on Oct. 10."Kidung Megarupa" contemporary art performance led by the famous Nyoman Erawan and supported by host of talented performers.Two-dimensional works were presented at ARMA, Puri Lukisan and Neka museums while paintings and an array of sculptures and installations were displayed at Bentara Budaya.
While a lot happened, the main highlights were Ovarium ( 2019 ), a three-panel work of digital prints on paper by AS Kurnia; Jejak Air ( 2019 ) by Made Djirna; Nafas Hidup ( 2019 ), revealing new abstract developments by Made Budhiana and Wayan Redika's hyper-detailed pencil and charcoal work on canvas; Tumbal Nusantara ( 2019 ), on display at ARMA; Banaspati Raja ( 2019 ) by Wayan Adi Sucipta; Ari Winata's Bali Singahmadawa ( 2019 ); Limit ( 2019 ) by Gede Ngurah Pandji; Sang Hyang Baruna ( 2019 ), eye-catching works by Made Karyana at Puri Lukisan; and Pertarungan ( 2019 ) by Putu 'Edy' Asmara at Neka. You Sit on my Sh*t ( 2019 ) by DP Arsa Putra, Putu Wirantawan's Gugusan Energi Alam Batin 7.3.10.019// ( 2019 ) and Dewa Rata Yoga's four by one meter canvas Menuju Harapan Baru ( 2019 ) were noteworthy at Bentara Budaya.
The side events were not any less as the discussion of "Gerakan Seni Rupa Bali Sebegai Seruan Kesadaran" (Call For Awareness by Bai Fine Arts) featured talented and respectable speakers as Nawa Tunggal, senior journalist at Kompass, Bamban Bujono and Wayan Kun Adnyana. Over 150 people attended this event on October 11 at Neka Art Musuem. There was also Lintas Media Bebas Rupa on
Another artist's talk at Bentara Budaya was led by Made Kaek with the famous at artist Made Bayak, who is also the head of Denpasar Photography Association Tjandra Hutama, illustrator Monez and video artist Kokoksaja on Oct. 26. The closing of Bali MegaRupa featured a workshop in the gardens of Musem Puri Lukisan, conducted by the Baturlangun artist's collective of Batuan with elementary school children from Batuan and vocational school teenagers from SMK/SMSR Ubud.
Side events of Bali Megarupa included the discussion "Gerakan Seni Rupa Bali sebagai Seruan Kesadaran (Bali Fine Arts Movement as a Call for Awareness)", featuring speakers such as Kompas senior journalist Nawa Tunggal, cultural observer Bambang Bujono and Wayan Kun Adnyana. The event was attended by over 150 people at Neka Art Museum on Oct. 11.
The main future success of the Bali Megarupa can be credited to the recent appointment of Kun Adnyana, famous curator and Balinese artist as the head of Cultural Office of Bali Province. Made Kaek,Bali Megarupa's Director of the Creative Team stated "Pak Kun Adnyana understands the potential of art in Bali and how it is necessary to have an adequate art infrastructure to embrace all existing potentials. His role is strategic and he is familiar with what is needed to build an art ecosystem. He has already proposed a budget for the Bali Jani Art Festival, including Bali Megarupa, in the 2020 regional planning forecasts."
"Pak Kun Adnyana has asked the committee to evaluate Bali Megarupa to help determine the community's satisfaction. There are internal researches and a questionnaire that needs to be completed, along with a careful planning for 2020. Our budget provision is highly planned, measured and accounted for," Kaek continued. "Even though the exhibition has closed, the public can still enjoy the artworks through balimegarupa.id, which will be developed into a digital gallery and a documentation center for all Balinese art."

BaliMegarupa's feedback received from various participants has been generally positive, and they are looking forward to the ongoing development of the event. Few comments about pointed out the improvement possibilities of the curatorial process, while some questioned the extravagance of the opening ceremony while some wondered if this event can actually achieve any positive outcome.
However all were in agreement that Bali Megarupa can benefit from a thought and careful process of evaluation to help bring more real valuable results for stakeholders in the future.
Kun Adnyana requested that all stake holders in Bali should be embraced by Bali Megarupa for the better cooperation, networking for a better support of this event on 10th November. "Big ideas will not develop if they are not executed properly through intensive collaboration as a joint project with a strong vision to deliver tangible and valuable future outcomes that have a real impact," he said.

Path Forward

"Thinkers, researchers, art lovers, stake holders, journalists and artists" all are welcomed to participate by Kun Adnyana to create a proper collaboration, harmony and creative long lasting partnerships. This will be the beginning to the task of Bali art infrastructure re invigoration. Assessing the art infrastructure with proper questionnaires to the artist community, vital infrastructure may be starting assessment of this process. This will define a clear vision as the next step so what desired state can be achieved by he end of five years only then a road map can be developed to reach the destination.