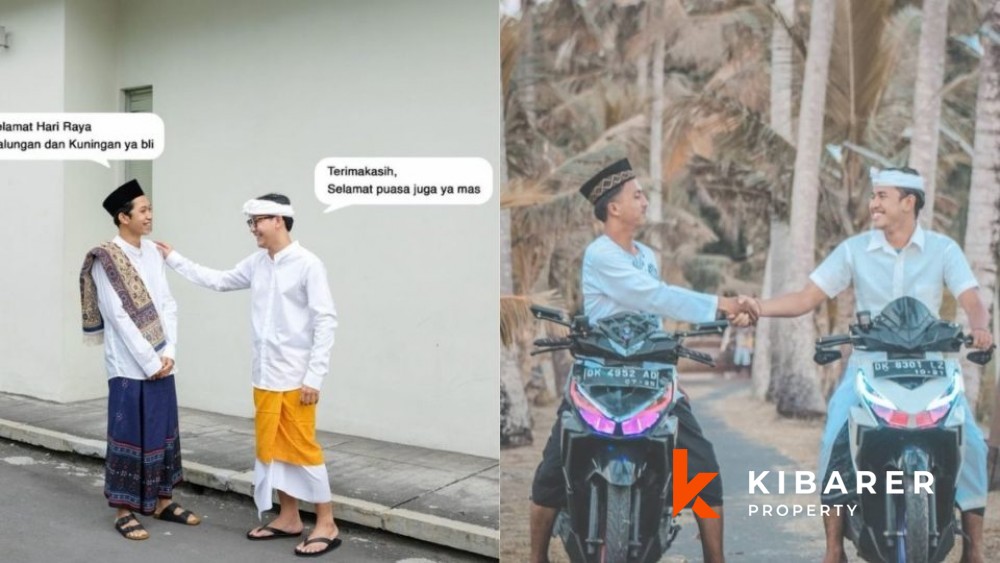 indonesians are loving the portrayal of harmony between hindus and muslims celebrating religious holiday in the same month
Category : Adventure | Posted On Apr 19, 2021
With the Balinese holiday Galungan and the holy month of Ramadan coinciding this month, some lovely depictions of inter-religious unity between Hindus and Muslims in Bali have been circulated widely on social media lately.
The Galungan holiday, which commemorates the triumph of good (dharma) over evil (adharma), is a 10-day festival that takes place every 210 days on the Balinese Saka calendar schedule, starting tomorrow and ending on Kuningan on April 24. Meanwhile, the holy month of Ramadan, which is practiced as a month of fasting by Muslims worldwide, started yesterday evening in Indonesia.
Prayers, dinners, and social events are popular places for the two holidays to be celebrated.
One specific picture, seen below, has been widely shared on social media, as it depicts a Muslim and a Balinese Hindu giving each other blessings for their respective festivities.
The picture is part of an ad campaign for the local clothing company Hanaka & Co. The advertisement also includes a video of a Balinese Hindu man giving a lift to a Muslim man on his walk to the mosque, captioned "Appreciating differences, forming togetherness. Because diversity is a wonderful thing that will benefit us all."
These posts have also been reshared by several public pages, including the precinct in Klungkung regency, which shared it on their Social media page. People tend to value the promise of peace behind them, even though it is only marketing.
"It gives me chills to see beautiful things like this," one user commented on Instagram.
"The beauty of tolerance… even if this video was set up… I hope it can be like that and all religions can live harmoniously side by side," another said.
This photo from Instagram user @aprileaan_ is also making the rounds this week, depicting a similar sentiment of tolerance.
Ramadan Kareem and Rahajeng rahina Galungan lan Kuningan to those of you who celebrate!