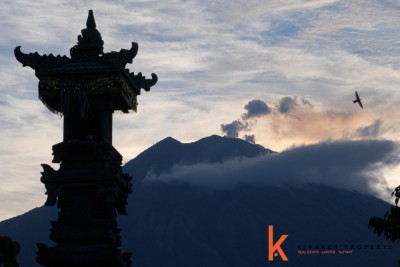 Mount Agung At It Again, 2000 Meter Ash Cloud Spewed
Category : Adventure | Posted On Apr 08, 2019
Mount Agung, the highest mountain of Bali erupted yet again on Thursday Morning. This time it spewed a massive 2000 meter ash and smoke column. This eruption caused a huge panic among the residents which were gathered for praying at a temple near by. The Center for Volcanology and Geological Hazard Mitigation (PVMBG) has maintained this activity of volcano at Siaga (stay on alert). It falls at the third level of the four level alert tiered system.
This latest eruption happened around 1:31 Am at Thursday night. The seismograph recorded the eruption amplitude at 25 mm. The eruption lasted for 3 minutes and 58 seconds. The eruption had a loud thunderous sound which was heard at the Mount Agung observatory post located 2 km away from the crater. 
The PVMBG has issued a warning for every one including locals and tourists, to stay clear of danger zone. A ban on hiking at mount agung has already been imposed since 2017 when the volcanic activity increased. Locals who reside by the river banks have also been warned to watch out for possible flow of lava.