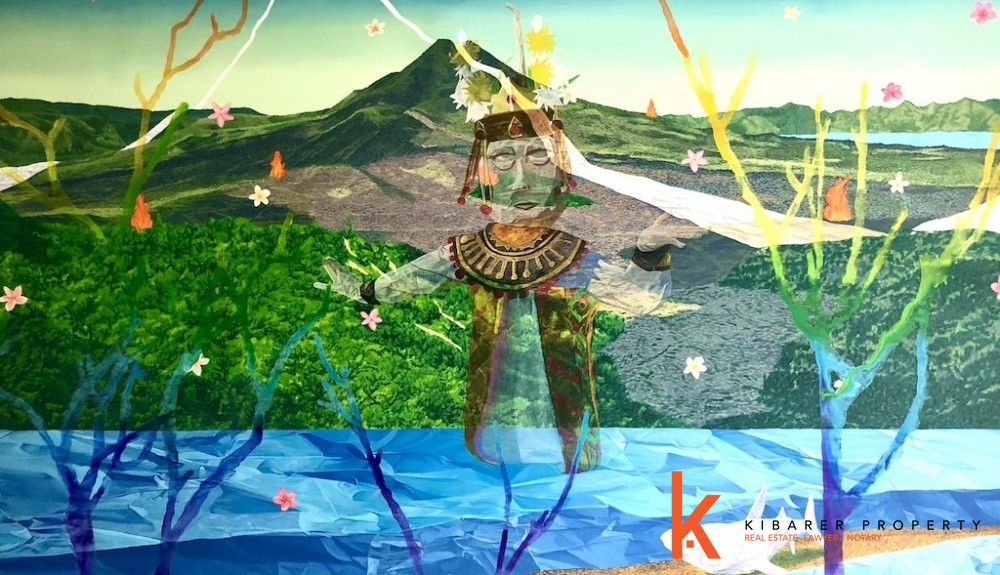 'Reframing Gambuh' exhibition in Ipan Lasuang Features Paper Figures Balinese Dance Performance
Category : Adventure | Posted On Nov 06, 2019
Ipan Lasuang a young artist featured a solo exhibition "Reframing Gambuh" which depicted gambuh dance theater from Batuan village in Sukawati district, Gianyar regency, Bali."Reframing Gambuh" is Ipan's fourth solo exhibition held between 27th October - 4th November showcasing 12 different works including painting and a beautiful installation that portrays an insight into artist's workshop.
Ipan as born in Padang, West Sumatra and he has recently graduated from ISI Yogyakarta. He has participated in gambuh rehearsals along with I Wayan Bawa and his family, who are gambuh performers, as part of research for this exhibition by living them for a specific period.
Being a part and staying involved with the routine and daily life of gambuh performers, Ipan paid a perfect tribute through his work by creating dancer figures, trees and other objects observed in the Gambuh performances by using crumpled and shaped paper. He also depicted motifs and ornaments of dancer costumes on to the paper in a unique way.
"I chose the most exciting parts of the performance, made paper models of those and then took photos of the paper models," Ipan told The Jakarta Post at the exhibition opening on Oct. 26.

Ipan took the photos of the paper figures and objects in a studio after he finished his work and used the photographs as references in his paintings. "I am a realist painter, so I need precision of lighting, and this is best delivered by photos. Illustration could help, but I doubt it would be precise enough," said Ipan.
Gambun performances are normally done by candlelights in the evening same creativity and ambiance was seen in Ipans work as his photshoot in the studio took place without any lighting except for candlelight.
Founder of Rumah Miring by CGartspace, Christina Gouw recently said in a statement that she is keen in showcasing Ipan's work. His work beautifully represents the Indonesian culture while raising the concerns of dangers of radicalism lurking in the shadows of archipelago.

"As a gallerist, I always look for young talent with the potential to amplify honesty and the truth," Christiana was quoted as saying.

Ipan has been exploring and experimenting with paper models for a while now but his latest work focusing on Gambuh themed work is considered as his most detailed and strongest work with the deepest meaning until now.
Ipan attended Santorini Art Fair in Greece before coming with the idea of gambuh exploration. He took inspiration from the museums in greece where he observed how well maintained the historical artifacts were. This motivated him to pursue his work into deeply exploring Indonesian culture and he decided to start his work with Bali, particularly the Gambuh dance. Gambuh is listed as an Item of Intangible Cultural Heritage by UNESCO.
Wayan Kun Adnyana who is a visual arts writer and lecturer in the postgraduate program at the Indonesian Arts Institute (ISI) Denpasar recently stated " Ipan's strength lies in the absorption of his research, which does not overwhelm his personal artistic character. Instead, he develops what he has absorbed into a concept that goes wider and is universal,"