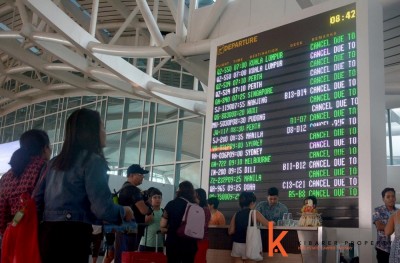 Operations Stay Normal Despite Moun Agung Eruption
Category : Adventure | Posted On Mar 31, 2019
Despite Mount Agung's eruption on Thursday evening the operations at Bali's Ngurah Rai International Airport are going as per routine. The reason behind this is the notification of airspace being declared clear of volcanic ash above the airport.
"Airport activities and operations at I Gusti Ngurah Rai remain normal," the airport's communication and legal section head, Arie Ahsanurrohim, said on Friday.

The eruption at Mount Agung lasted for two minutes and 32 seconds in the Karagasem agency at Indonesian time. The alert system was maintained at Level 3 by the Center of Volcanology and Geological Disaster Mitigation. The danger zone radius was remained under 4 km of the crater. An alert was issued for the public and tourist to remain clear of the danger zone.
This eruption has not affected the flock of hundreds of Balinese visiting Besakih temple aka Bali's mother temple. "Everyone is still praying. The situation is normal," said Komang Suriadi who prayed at the temple on Thursday evening with his family.
The eruption was not visible from Besakih which is located at a distance of about 4 km from the Volcano's crater. However the Ash did spread and fell on Ban village. The village is located on the slopes of Mount Agung. It did cause a little panic among the villagers resulting in at least 20 families fleeing their homes and taking refuge at village's office.
"We have urged people not to panic. We have coordinated with the PVMBG. They declared that the alert status has been maintained at level three, and the danger zone remains 4 km from the crater," said Karangasem Disaster Mitigation Agency head Ida Ketut Arimbawa.