Ubud Villas – The Den of Expats in Bali
Ubud Villas are the most preferred in Bali Villas by expats. This is a statement that you will come across in many articles or through people who are living in Bali or have spent some time there. But that's just a perception based on the recent increase in tourism and expat community in Bali. There is no dispute that Ubud played an important role in the development of tourism and Bali real estate market in the recent years so to have a better understanding, let's explore Ubud a little more.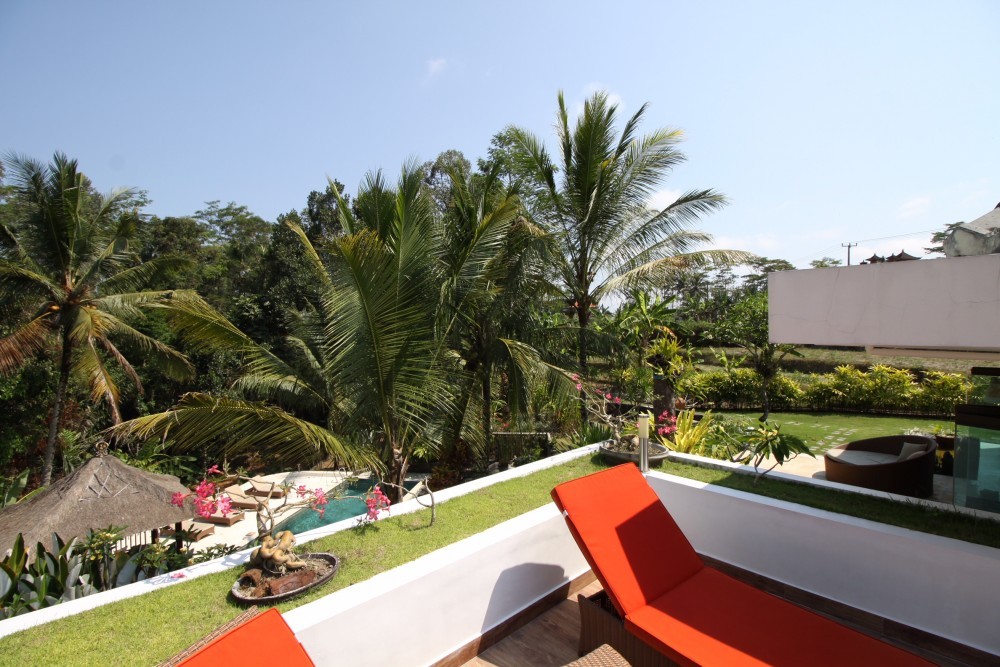 Ubud Town and district is different from other areas of the Island of Bali. It is located in the central beautiful foothills of Gianyar regency and is famous for its sheer beautiful lush greenery and mountains. The location amongst the beautiful rice paddies, jungles and steep ravines gives it a fresher natural aura as compared to the beach sectors of the Island.
Ubud was famous for its medicines, herbs and plants before it became famous as an expat hub in Bali property boom. Ubud is driven from the Balinese word Ubad which means medicine. The history states that the area came in to being after an Eighth Century Legend Javanese Priest Rsi Markendya, meditated at the confluence of the two famous rivers at Ubud locality of Campuan. He later founded the famous Gunung Lebah Temple on the valley which is still a sacred pilgrimage destination for the believers.
Ubud was considered as one of the most power Southern State of Bali as a seat to feudal lords who swore allegiance to the King of Gianyar. As a result those lords who were the member of Balinese Kshatriya caste of Sukawati and were strong supporters of the villages increasing creativity and renowned arts and crafts developed the culture further.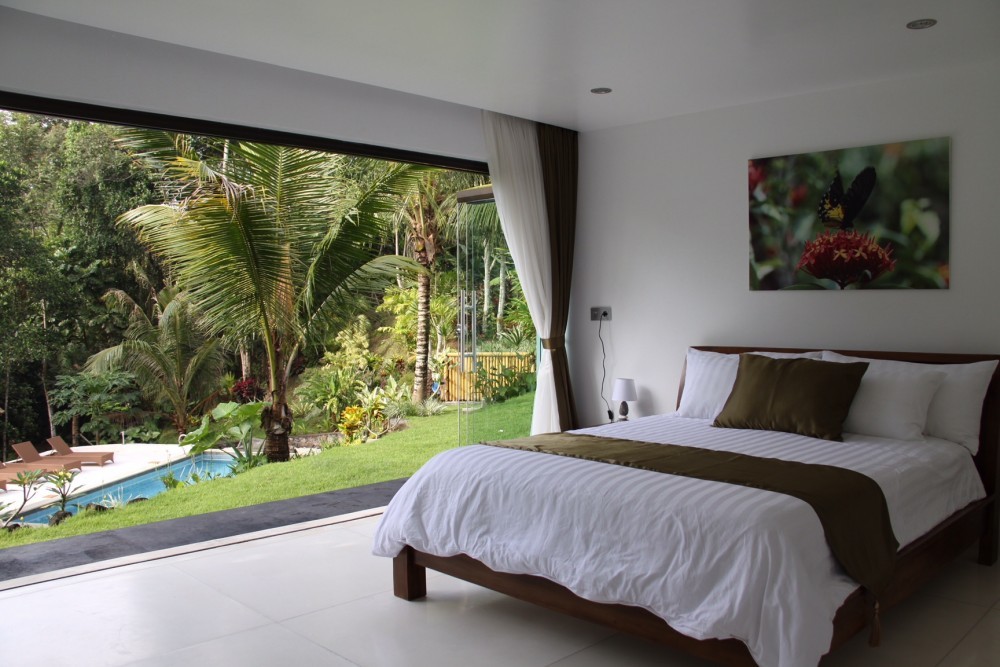 Tourism in Ubud developed long before the Island started receiving millions of tourists. The initial stepping stone of tourism was placed by a Walter Spies, A German born in Russia. He brought and taught painting, music and dabbled in dancing. Spies wasn't alone in promoting the culture drive in Ubud, two foreign painters Willem Hofker and Rudolf Bonnet spread the word about the culture of Ubud, Bali in the world. They brought and entertained the Celebrity giants of their era including the names such as Charlie Chaplin, Noël Coward, Barbara Hutton, H.G. Wells and Vicki Baum. Seminyak Villas, Canggu Villas do not have such rich history as Ubud does.
This trio worked hard and brought the greatest artists of the world into Bali. Those artists help taught the in arts and crafts to help become Ubud the cultural center of Bali. This trend continued and a new wave of creativity was brought back in 1960s by Arie Smit a dutch painter and then the development of the Young Artist movement.
Bali tourism saw a magnificent boom in tourism in the late 1960's and since then seen a massive development over including in Ubud. Unlike Bali Villas Seminyak or Canggu Bali Villas you will not find beachfront villa Bali in Ubud as this is the greenest area in Bali and mostly covered by a dense forest. As a result the economy of Ubud town is highly dependent on tourism, shopping, museums, zoos and resorts. Ubud as compared to main southern tourist area of Bali is very less populated. An estimate of population is around 30,000 thousand. This is why the private villa Bali in Ubud are preferred by those tourists and expats who prefer to live in fresh and quiet surroundings.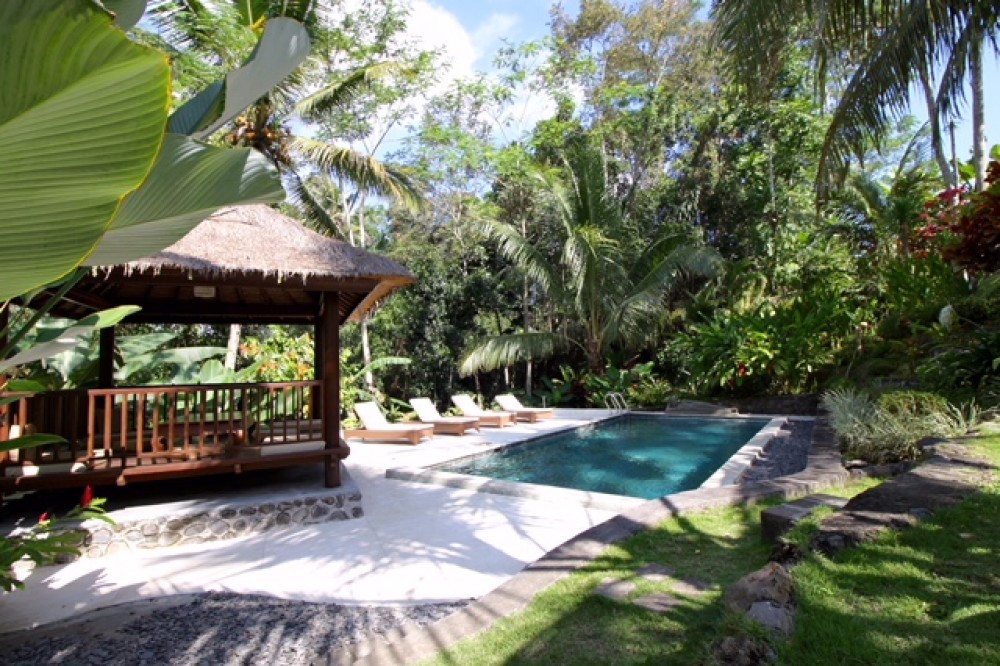 Ubud Villas cost of living: -
Ubud villas are preferred more towards long term living as compared to short term living. This is why Ubud villas are preferred by expats over tourists. The cost of living in Ubud is comparatively cheaper as the most other areas in Bali. Villa Ubud Bali on an average cost some where around USD$1600-2200. This is a rough estimate based on a experience of expats who lived there. They gave this estimate based on a 2-bedroom, 2 bathroom Ubud villa which featured great amnesties such as private swimming, wifi, electricity, gas, cable tv, daily breakfast bought prepared and dry cleaning.
However, the average price can vary depending on what you are looking for. Despite the fact of not having a beach close by Ubud still have some of the best villas in Bali. We will cover the purchase part later in the article as focus is on the living cost. You can rent a single room in Ubud villas as low as $150 per month and up to $5000 for big luxury property including multiple staff. However a comfortable cozy normal Ubud villa tends to cost upto $USD1400-2200, depending on the location and facilities being provided.
The food cost is also very reasonable as compared to not just other areas of Bali but the most part of the world as well. An average meal cost around $3 per person. So an average meal if you are two adults and two kids can range somewhere between $12 USD to $25 USD. Most expats find it cheaper to buy a cooked meal than to cook it themselves.
Drinks, however, are pricier here and can cost you as much as a meal you bought. The smart choice is to opt-in for the water or a soft drink. Yes, colas and soft drinks are cheaper but other drinks are expensive as they come.
Grocery is definitely cheaper and gives you a great value on the money that you spend. It is cheaper than the most part of the world and the good thing is organic as they come. As per an estimate by the living expats, your spending is less on fruits, vegetables if you head to a local market rather than a shopping mall. Normally expats visit Bintang for milk, bread, fruits, and other routine items. The comparison is cheaper if you buy from the local markets. On average, a weekly grocery shopping can go around from USD$10- USD $ 60. This may include stationary shopping for 2 kids as well including the regular stuff as sketchbooks, craft supplies and pencils from the supermarket.
Ubud's lush greenery and scenery settings give it the ideal aroma of massage and Spas. There is a plethora of massage parlor and you may have to hardly walk to find one. The average massage normally costs somewhere between $5 USD to $12 USD.
The mode of transportation in Ubud is also cheaper so if you are living in one of the beautiful Ubud Villas. You can easily hire a scooter for around $ 50 USD for one month. A little downside of living in Ubud Villas is that you are bit far from most central areas of Bali. The good part is you can rent out scooters on an hourly and daily basis as well. The hourly cost of a scooter costs around $3 per hour. Scooter fuel cost is very minimal and it is the best mode of transportation in Bali to get quickly to other parts of Bali. The fuel tank would cost around $1 and can last up to a week easily.
This is just a basic idea of living in Ubud Villas. A reason why expats prefer living in Ubud Villas as compared to other areas of Bali family villas. Of course, there are other lifestyles if you adopt them are much cheaper than a regular lifestyle. For example, you can find cheaper accommodation in the various Ubud villas. There are cases of solo backpackers living in Ubud villas for around or less than $350 per month. But if you be realistic and honest the cost of living in Bali especially Ubud villas is way cheaper than the cost of living in Europe, Canada, U.S. or Australia. It is hardly a tiny fraction of spending as compared to those countries. The good part is that Ubud villas living to provide healthier and substantial benefits compared to them at a much cheaper cost.
Ubud the Healer:
Bali before it was famous for tourism, beaches, villa development or crazy nightlife, it was known for its spiritual and body healing. Tourists from all around the world initially traveled to Bali for spiritual healing and body healing. Ubud is famous as a healing hub as well and still has some of the best spiritual and body healers in the world which are visited by people all around the world.
Pak Man Arya Dunung Spiritual Healing: -
Those who are always looking for spiritual guidance and healing are no stranger to Pak Man Arya Dunung as the reputation precedes him worldwide. This makes Pak Man Arya Dunung the go to a healer in Bali's hands down over anyone else. The process makes it essential to abide and respect the cultural norms and rules such as modest dressing which suggests covering your shoulder and legs, never to put the money in the healer's hand. If you are a female you have to ensure that you do not visit during that time of the month. Pak Man Arya Dunung's wife is British and she serves as a translator for visiting tourists. This process normally goes from a short conversation as a starter which is then followed by an hour-long vigorous and sometimes painful massage to remove the obstacles and blockages in each session. Pak Man Arya Dunung often ends the session by putting herbal pastes on patients gums and working the body to open the heart to feel lighter.
You can find Pak Man Arya Dunung at Jl. Tirta Tawar No.12, Petulu, Ubud, Kabupaten Gianyar, Bali 80571, Indonesia.
Jelila
Jelila is a popular initiative focused on natural intuitive and offers extensive varieties of healing treatments. These treatments focus on chakra, energy, crystal, sound and past life treatment. In Balinese culture, it is frowned upon a healer to market your service. However, a large number of outstanding reviews by satisfied customers and tourists on travel sites prompted Jelila to open a website to deal with the increasing demand. If you are visiting her for the first time, we strongly recommend to book yourself for her two hour signature session. Jelila treats every patient uniquely based on what they need to heal. This session can include crystals, singing, bodywork, past life clearing or to ensure a release of your subconscious block. The best part is the uncertainty of being prepared mentally for the unusual experience in her electric home. Jelila also caters to the overseas clients who can't make it to Bali over skype sessions.
You can find Jelila at Jl. Hanoman No 43, Ubud, Bali, Indonesia | +62 8585 732 6822 | Skype: JELILA2255 | [email protected]
There are many perks of spending a perfect life in Ubud Villas. The lush greenery, the fresh breeze, the stunning aura of positivity and mixed culture of expats, you would absolutely love the variety of Spas that are available in Ubud. Expats and tourists absolutely love the variety of Spas that are available in Ubud almost everywhere. If you ever feel tired or stressed in Ubud you don't even have to look for a spa as you will find them after every five minutes. We are listing some of our favorite spas near Ubud villas.
KARSA SPA
Karsa Spa is absolute unique heaven and very near to Ubud Villas. It is perfectly set between Balinese rice fields with a mere 30-minute walk or a ten-minute drive from Ubud's center. They are famous for their organic treatment as they only use Ayurvedic, organic essential oils and the plants that are grown or sourced locally. Each ingredient is used for specific treatments. Karsa Spa is famous for its eco-friendly model, they use Bio Soap, nut liquid and they discourage littering and encourage waste management in the small village they are located in.
You can find them at Jl. Markandia, Ubud, 80571, Indonesia
KUSH AYURVEDIC REJUVENATION CENTER
If you are looking for happiness in a Spa, massage parlous. Ask no further and straightly head to Kush Spa. As the literal meaning of Kush in Sanskrit means happiness. That is what people find at Kush Spa. Kush Spa is a blissful beautiful oasis that is Yoga Barn. The treatments here are focused on balance, nurturance and holistic health. These treatments help people to reinvigorate their bodies and soul. It is no doubt one of the best Ayurvedic treatment spa and parlor at the Island.
You can find them at Jalan Raya Pengosekan, Ubud, 80571, Indonesia
JAENS SPA
Jaens spa takes in pride in calling themselves as "Bali Heavenly Relaxation Centre." We do not disagree with them cause this is the truth. If you are in Bali, you should definitely head up there to have the traditional timeless Balinese Massage and their other famous holistic treatments. This is the place where the ancient practices get into a perfect blend with modern spa treatments. We call it the perfect cocktail treatment for a healthy body and soul.
CANTIKA ZEST
Cantika Zest is another absolute hidden gem located in the beautiful village of Penestanan Kelod. Ketut Jasi is the famous creator, founder of the SPA. Expert in plants, massages and healing treatments since the late 1990's. His ideology to open this Spa was to share his wisdom of plant treatments with people, to connect them more with the mother nature, earth and to themselves.
You can find Cantika Zest near Ubud villas at Jl. Penestanan Kelod, Ubud, Indonesia.
PUTRI BALI SPA
It won't be wrong to call PUTRI BALI SPA the house of relaxation. Why? Because they offer everything, one can always find the treatments they are looking for here under one roof. From traditional Balinese massage to reflexology of face and hand massage you will find everything. They are ideal for circulation, relaxation of muscles and releasing the body tension. Their therapists are as skilled as you can desire with an extremely high quality of service. We recommend that you go for full body chocolate massage