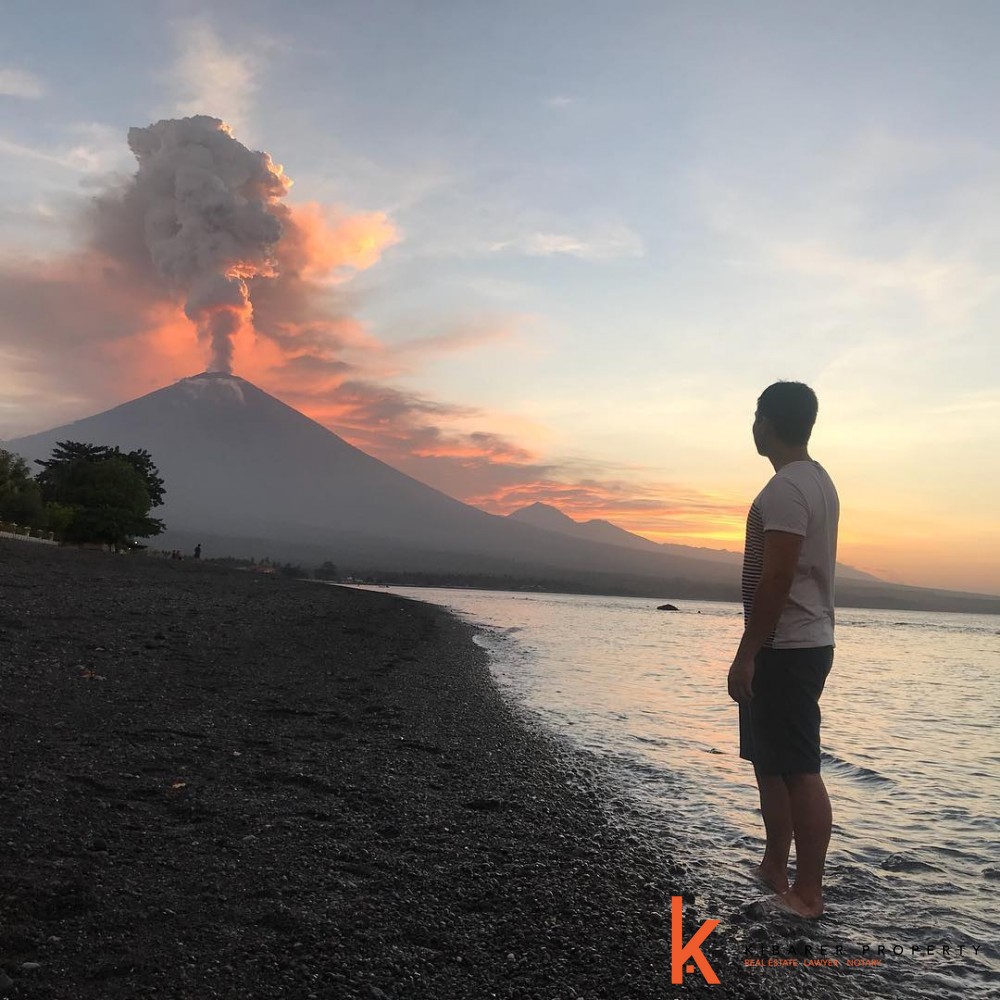 what you should know about mt agung
Category : Adventure | Posted On Jul 23, 2018
Mount Agung's Background
Indonesia is an archipelago consisting of 17,508 islands which are home to ​139/400​ volcanoes, of which a few are positioned within the infamous 'Ring of Fire' ​(USA Today, 2017)​. Because the level of volcanic and seismic activity is particularly active in this ring, at any given time Indonesia is susceptible* to both volcanic eruptions and earthquakes, accounting for about a third of the world's active volcanoes (​US Geological Survey Earthquake Hazards Program)​. 
Currently there are a total of 127 active volcanoes that are being monitored by government seismologists; Bali in particular has 4 volcanoes - ​Agung, Merbuk, Batur and Bratan (The Economist, 2017). Since November 2017, current international and local news has been filled with coverage on the active volcano Gunung Agung (Mount Agung). Located approximately 70 km North East of Kuta- South Bali's renowned tourist hotspot, Agung is a stratovolcano erected at the height of 3,031m which is also the highest elevation point in Bali. Its effects on its surrounding area are significant and can influence the climate i.e. rainfall patterns ​(The Daily Express UK, 2018)​. 
Before 2017, the last time Agung erupted was February 18, 1963 after 100 years of slumber. During this eruption highly viscous lava flows travelled downwards to a length of 7 km in roughly 18 to 20 days, destroying many villages and killing about 1,549 people ​(Volcano Discovery, 2018). Mount Agung's activity - 2017 Although Agung occasionally emits smoke and ash, the volcano has been mostly dormant since 1963 until the 21 November 2017 where Agung erupted at 5:05pm Bali time. Due to the five eruptions in November as indicated by the emitted ash clouds and columns the Indonesia's Volcanology and Geological Disaster Mitigation Centre (​PVMBG​) raised Indonesia's alert status to its highest level (Reliefweb,2017). In the lead up to these 2017 events there were tremors reaching up to thousand a day beginning in August. 
As a result, the Ngurah Rai International airport was closed 27 to 29 November 2017, causing many flights to be cancelled and numerous travellers stranded. Following this there was a series of eruptions on 23 and 24 December recorded, however this resulted in no major impacts, resulting in the radius of the 'danger zone' being reduced from the original 12 km proximity around Agung to 6km (OCHA, 8 Jan 2018). The alert status was sustained at level VI which means 'danger'. Mount Agung's Recent activity - 2018 On 15 January 2018, there was another eruption where 2,500 meters of ash was dispersed into the air, the 'danger zone' remained at a 6km radius (OCHA, 15 Jan 2018). On Friday 29 June, Agung erupted again causing Bali's international airport to be shut down for half a day due to its volcanic ash, which led to 27,000 passengers being affected by cancelled flights​ (The Daily Express UK, 2018).​ At 6:19am on Monday July 2, an explosion lasting for 3 minutes and 47 seconds was recorded. At 9pm, another eruption lasting 7 minutes was seen wherein a column of ash shot up in the air at 2,000 meters, accompanied by flaming volcanic rocks ejected at 2 km out of the crater. This eruption was classified as 'strombolian by ​PVMBG​, which is the mildest type of explosive volcanic eruption.
Mount Agung's  Impacts
The impacts of Agung are predominantly on the local population as the area danger zone which surrounds Agung is not a major tourist spot. The danger zone affects a total of 22 local villages as shown in the diagram with a total population of 239,231 people. The volcano actually lies approximately 70 kilometres northeast of Bali's tourist hotspot of Kuta with 98% of Bali's tourist attractions situated out of this danger zone according to Bali Tourism Board. Nonetheless, although the impacts are not immediately apparent, the eruption of Agung have negatively affected the number of visiting tourists, of which 60% of Bali's economy is dependant on the tourism industry (Indonesia Investments, 2018).
(Source:​https://stenden.com/en/alert/alerts/alertbericht/archief/2017/09/bericht/eruption-mt-agung-bali​) Number of Evacuations
| | |
| --- | --- |
| 24 September 2017 | Nearly 35,000 people have been evacuated from their homes and dispersed across 238 locations in seven districts in Bali ​(​OCHA, 25 Sep 2017​) |
| 25 September 2017 | The National Disaster Management Authority evacuated more than 63,000 people from their homes, however the number keeps steadily rising ​(​IFRC, 27 Sep 2017.​) |
| 13 October, 2017 | Approximately 138,000 evacuees ​(​IFRC, 13 Oct 2017​) |
| 29 September 2017 | Over 140,000 people evacuated following the increase in the alert level issued on 29 September.​(​OCHA, 30 Oct 2017​) |
| 23 and 24 December, | An estimated 71,000 affected people remain in 239 evacuation sites ​(​OCHA, 26 Dec 2017​) |
| | |
| --- | --- |
| 14 January 2017 | Almost 50,000 people evacuated from their homes ​(​OCHA, 15 Jan 2018​) |
| 30 January 2018 | Official records reports show 23,682 evacuees ​(​IFRC, 13 Feb 2018​) |
Current Status Level
It was reported by ​PVMBG ​that the overall volcanic activity in January 2018 had drastically dropped when compared to December 2017. In February 2018 this alert status was reduced from the highest level of level VI. ​Today, the current Volcano Observatory Notice for Aviation (VONA) is at orange, whilst the alert status has been sustained at high alert or level III which is otherwise a standby level. To put this into perspective, a volcano level II alert signifies that the volcano is merely being observed due to its activeness but is regarded to pose little threat (The Daily Express UK, 2018).
 The spokesman of ​PVMBG ​stated that it was likely that micro tremors were still being detected which indicated the presence of magma moving to the surface, thus another eruption was likely, however travel to Bali should not be restricted. ​(The Daily Express UK, 2018)
See what's happening in Bali right now despite all this.